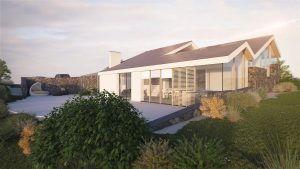 Igloo
13th September 2018
Planning permission has been granted for a private house in an area of outstanding natural beauty on the coastline of Angelsea in North Wales.
Our client purchased the property recently, having strong family connections to Holyhead and Holy island going back into the 1850's and extensive family in the locality. He intends to live in the house as his permanent residence, however the layout does not work well for his family. He is passionate about the location as an area of outstanding natural beauty and as a keen amateur birdwatcher he is particularly aware of the importance of
the Site of Special Scientific Interest. Our brief has been to create a beautiful contemporary home and develop it sensitively and respectfully to enhance the quality and contribution it makes to the site.
Construction is due to begin in 2019 with completion in Autumn.
The Design and Access Statement can be viewed here.